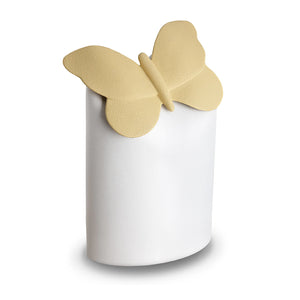 Quality Urns and Statues for Less
Porcelain Urn with Yellow Butterfly
Regular price
$299.00
$0.00
White Porcelain Urn with Yellow Butterfly
The White Porcelain Urn with a yellow butterfly on top is sleek and simple. It takes traditional butterfly urns and gives them a more contemporary look that will elevate wherever you keep it in your home. You can keep it among your other art pieces and sculptures without it being obvious it is a traditional cremation urn.
Porcelain has a high level of mechanical resistance, is less porous and high density, which can make it more durable for daily use while being soft to the touch and beautiful..
It can be made of many materials but most often used is kaolinite which is a raw mineral material. Others that are used are clay, bone ash, glass, quartz are used also.
Capacity: 281 Cubic Inches (Up to 291 pounds of weight before cremation)

Dimensions: L 9.84" Long x 5.51" Wide 14.17" high

Opening: Metal threaded screw on bottom
---