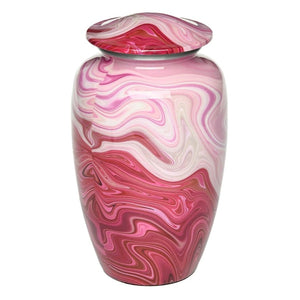 Quality Urns & Statues for Less
Pink Swirl Urn
Regular price
$159.00
$0.00
Pink swirls that meld into red on the bottom.
The Pink Swirl Urn starts with whites, light pinks, pinks and then red at the bottom. Hand lacquering gives it a liquid look. Then a high gloss clear coat is added for shine and protection.
Our Aluminum Alloy Urns are very popular with our customers because of their lower price point and high diversity of designs. They are sturdy, yet a little lighter in weight than brass and much lighter than bronze which is the most expensive of the metal urns, making bronze impractical for painting and adoring with other elements. Aluminum urns are perfect for hand painting, vinyl wrapping, and interesting painting and enameling. Because of their versatility, we are able to offer a large array of styles for you to choose from.
Threaded lid tightens securely.
10.5" High x 6" Diameter
Capacity: 220 cubic inches (Up to 225 pounds of a person's weight)
---