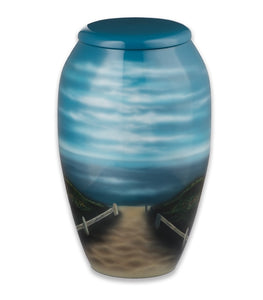 Quality Urns & Statues for Less
Path to Ocean Views Beach Urn
Regular price
$169.00
$0.00
Pathway to the beach urn
This beach ocean urn is hand painted by skilled artisans and clear coated for shine and protection.
You can imagine the feeling of approaching the pathway to the beach seeing the vast open blue skies as anticipation grows and the smells of the ocean, sand and dune grasses fill your senses.
It features a flat top that has a threaded lid that tightens securely. 
Our Aluminum Alloy Urns are very popular with our customers because of their lower price point and high diversity of designs. They are sturdy, yet a little lighter in weight than brass and much lighter than bronze which is the most expensive of the metal urns, making bronze impractical for painting and adoring with other elements. Aluminum urns are perfect for hand painting, vinyl wrapping, and interesting painting and enameling. Because of their versatility, we are able to offer a large array of styles for you to choose from.
Dimensions: 10" H x 6" W
Capacity: 200 cubic inches (Up to 210 pounds)
Secure threaded lid that closely tightly
Comes with velvet presentation bag
---