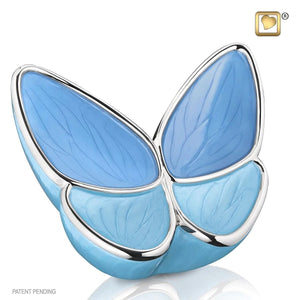 Quality Urns and Statues for Less
Blue Butterfly Urn for Ashes
Regular price
$309.00
$0.00
Blue Butterfly Metal Urn
This butterfly shaped urn is adult sized and features nickel plated trim on brass with hand applied pearlescent enamel to give a textured look. It is then coated with Gloss Coat for shine and protection. Uniquely shaped as a butterfly, it will be a beautiful and interesting piece of art in your home.
It is made from Brass and Alloy:
Brass is a sturdy metal made from 90% copper and 10% zinc. It is extremely durable and when polished gives off an attractive gold tone.
Brass is much less expensive than bronze to manufacture and can be cast to any shape, therefore has become a very popular metal used in the cremation urn industry.
Most our brass urns have painted or enameled finishes and some have nickel plating to show a silver tone finish. They are also many times etched by hand with floral or leaf designs right into the brass itself
Our brass cremation urns showcase the fine balance this diverse material offers. The beauty and functionality of brass have given it a high standing among metals and alloys and it is among the most popular choices in our large selection of cremation urns for ashes.
Capacity: 220 Cubic Inches (up to 225 pounds weight before cremation)
Dimensions: Length 8.27" x  Width 10.63" x  Height 9.06"

 Threaded Screw on bottom for placement of ashes.

Presentation Pouch Included
---