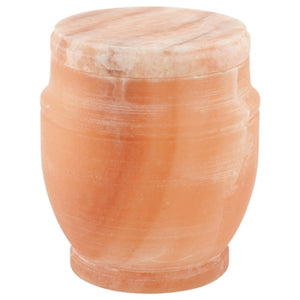 Quality Urns and Statues for Less
Himalayan Salt Biodegradable Burial Urn
Regular price
$299.00
$0.00
This urn is individually hand-crafted by skilled artisans from solid blocks of Himalayan Rock Salt that has been in existence for  250 million years.
As a result, the natural and hand-made qualities will be unique in both color and finish, adding to intrinsic beauty of a nature made natural product.
Bio-degradable in nature, if you choose a water burial, the urn will dissolve in 4 hours and sink immediately when placed in water.
* Please follow federal regulations if placing the urn at sea.
You may also choose to use it as a ground burial urn, Times for degrading will vary greatly depending on where and what type of soil and moisture it is buried in.
Some choose to use the urn to be displayed in the home because of the belief that Himalayan salt produces soothing and calming energy. If you do choose to use it at home, clean with dry cloth and do not get it wet.
Top opening lid for places ashes
Capacity: 220 cubic inches (Up to 225 pounds)
Dimensions: 8" Diameter. x 9.5"High
Weight: 10 lbs.
---