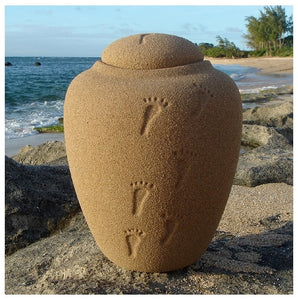 Quality Urns & Statues For Less
Biodegradable Sand Beach Urn with Footprints
Regular price
$267.95
$0.00
Footprints in the Sand Biodegradable Urn.
This urn is perfect for both water burial and ground burial. It is composed of a combination of real beach sand and a vegetable-based gelatin, Coating it with real sand makes the experience truly a beach-ocean related memorial service.
Included is a water-soluble bag which hold the cremains. 
If used in a water burial, the urn will float then sink and biodegrade.
If used in a ground burial biodegrading time will vary depending on the conditions such as how dry or wet the ground is.
Dimensions: 

8.86" high x 6.89" diameter

Capacity: 200 cubic inches (Up to 210 pounds pre-cremation weight.)
Urn weight: 5 pounds
---